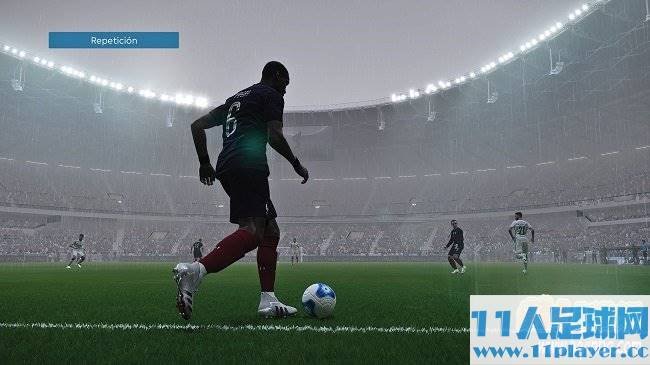 资源介绍:
由玩家Urbanhack86分享的
PES2021
终极球场环境补丁v1.07,逼真草皮+雾气下雨天气灯光等等。内容如下。(已包含前面所有内容)
配合
PES2021
终极游戏画质增强补丁Ultimate Reshade会更完美。
Ver. 1.07内容:
1.06a Update Included.
Added Grass Boots Marks To Most Of Stadiums.
Reverted And Fixed Evening Lighting Sky To Stadium: St014, St016, St023, St033, St034, St035, St036, St059, St062, St074, St081.
Upgrade Lighting And Turf To La Bombonera Stadium.
Updated Ulker Stadium Pitch Pattern.
Improved Hexagonal Nets.
Improved All Days And Some Nights Color Grading.
Added Different Color Grading To All Stadiums.
Old Trafford Sunlight Fixed And Updated.
Improved Grass Sharpeness.
Minor Gr Script Setting Optimization.
Ver. 1.06a内容:
Reverted turf_bsm_alp_rgba32.ftex to 1.04v.
Added Custom Alpha Channel To turf_bsm_alp_rgba32.ftex File.
Updated All Three Presets Color Grading.
Set Preset Default To Default Preset.
Fixed Sky Glow Issue In Camp Nou Stadium.
Updated Pitch Pattern To El Monumental Stadium.

Ver. 1.06内容:
Improved Rain Drops.
Enhanced Hexagonal Goal Nets.
Enhanced Shiny Land Marking Lines.
Fixed a Corrupt Filter File.
Removed ALL HDR Luts.
Full Lighting Redone.
Enhanced Color Grading.
Realistic Sunshine.
Realistic Sunlights.
Enhanced Lighting For All Stadiums.
Added Missing Rain Files For st084 Stadium.
Recreated Lights For Missing Stadiums.
Added 3 Diferent Color Grading Patterns.
Lite Version.

Ver. 1.05内容:
-Fixed Game Issue Performance.
-Fixed RGB Texture Cuz Aprently It Gives FPS Drop For Someones.
-Added My Relistic 3D Grass.
-Fog Redone! New Fog For Each Stadium In Cloudy/Rainy Matchs.
-Full Lighting Improvment.
-Fixed Lighting Issues.
-A Lot Of New Textures And Missing Stadium Files (Forgot To Add It Before).
-Improved Gamma And Exposure To Day/Night Matchs.
-Corrected Grass Color For All Weathers.
-New Grass Patterns Added Randomly.

Ver. 1.04内容:
-Updated All Pitch Files From All Stadiums.
-Turf RGB Texture Redone.
-Removed All Ugly Brown/Yellow ¿spots?.
-Minor Grass Color Correction.
-Fixed Grass Pattern In Some Stadiums.
-Corrected Grass Files For Stadium Palestra Italia.
-Added Files For Wembley Stadium.
-Other Improvments.
-Ready For 1.05 Update...

Ver. 1.03内容:
-Frostbite Pitch Mod By Makidan14 Not Needed Anyomore.
-Added Frostbite Pitch To Source Folder.
-Added Missing Decals For Some Stadiums.
-Added Missing Stadiums Files.
-Removed Unused Stadiums IDs.
-Added Fog Files For Missing Stadiums.
-Corrected Lights For Stadium Palestra Italia.
-Fixed Pitch For Stadium Maracana.
-Minor Lights Fix For All Stadiums
-Added Files (St081, St082, St083, St084) To Do AddOns.
-Fixed Pre Match Face Lights.
-Grass Saturation Color Correction For Day Time.
-HDR LUT Files Fix.
-Asset Folder CleanUp.
-Other Minor Changes.
-Finally Removed Endo Files.

Ver. 1.02内容:
-Corrected Lut Colors At Morning And Evening Matchs.
-Fixed Missing Luts For Fine, Cloudy And Rainy Nights.
-Removed Unused Luts.
-Added Faces Lights Correction.
-Added New Screenshots.

Ver. 1.01.内容:
-Reshade Removed.
-Little Turf Color Correction.

Ver. 1.00内容:
-First Release.


使用方法:
1、下载解压缩(建议用Bandizip、7Zip、WinRAR等压缩软件解压,以免出错!!!)
2、将文件复制到最新的S挂工具liveCPK文件夹内,在sider.ini里面添加cpk.root = ".\livecpk\Ultimate_ATM"
3、运行sider,运行游戏。

注意:如果解压出现错误,可能是下载中出现了文件损坏,请重下在下载这个错误的压缩卷。